It can feel as though we spend more time in the office than we do at home, and sometimes this is actually true. So why are we putting as much effort into her office environment as we are our home? Many studies have concluded that a positive atmosphere in the workplace will always positively affect the quality and quantity of the work being produced. Whether your office space is just a small area in your home as you're self-employed or a large building with many different departments, it is just as essential to ensure that yourself and your staff feel happy, safe, and have an enjoyable workspace. It's an investment that will be worth it, as happy workers, produce happy businesses.
Have you ever walked into an office space, that is bright, well maintained, and full of great decor? I noticed how you felt different when walking around. This is why it's essential to consider ways to improve your office space, sooner rather than later. If you're considering these options before you even open your office, then you're already one step ahead.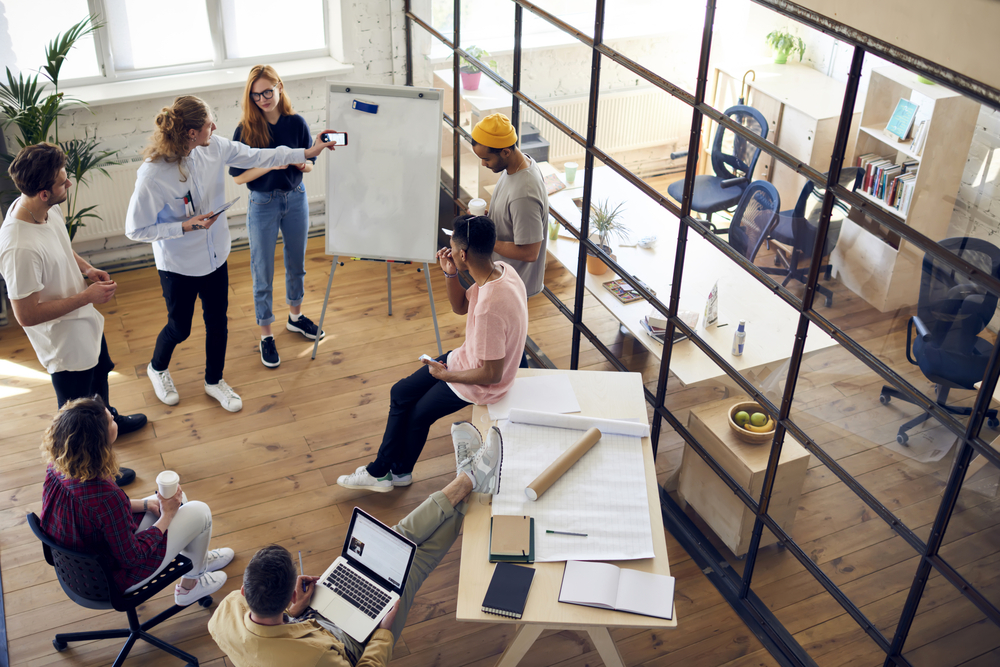 Light
It sounds obvious because humans tend to work better in lighter environments. However, there are various different options when it comes to light in an office. Of course, natural light should be the number one priority, and if that's what you've got coming through the windows, with enough for everyone, then you're already making a good start on a great environment. There are plenty of artificial light options available too if natural lighting isn't possible, but maybe some unusual light fittings or sum up to date technology should be considered. You can even add lamps and LED lights in different areas to really add interest to space. This gives your team and clients and impression that you really care and have put effort into how the office environment is. If you have the budget as well, you may even consider hiring a professional company, who can provide you with all the information, and direction, to producing a fantastic office space for everyone that works there.
Maintenance
This may go without saying, and it may not be at the top of your priority list, however keeping your office items, furniture, and appliances all up-to-date and working well, can boost the mood of the team. Imagine the annoyance and time wasted every time someone tries to use the broken printer, it all adds up over time, and it can throw a person's day out entirely if it isn't sorted quickly. This also shows a level of care and respect for your team and making sure everyone can feel safe and secure in their working environment. This also helps with your business since well-maintained equipment and furniture will cost you less in the long run. There are of course legal obligations for you to stick to as well but going a little bit over and above the basics, will go along way to improving your office space.
Plants
We all know that plants produce oxygen and are essential for us to have cleaner air. But we can bring this into the office, and also brighten up the working space by adding some gorgeous plants, there are many different types, and even exotic plants such as orchids available for office decor now as well. This is something that can be outsourced, or you can delegate this to a member of staff with green fingers. This will also give the team a sense of ownership and make sure they are well maintained and looked after as well. The options we have available to us now are vast, but succulents are a big thing in 2019 as well, so add that with a few rose gold items, and you have a modern decor that is clean, modern and helps the air and environment as well.
Air quality
The new plants that you provide in the office are going to improve the air quality naturally anyway, but what else can be done to improve the quality of the air that you share with your co-workers. The climate of your office and where you live in the world will have an impact on this. If you live in a hot climate and you have to air-condition in the office, try using a modern and high-end air-conditioner, with the correct filters to improve the air quality. This also extends to how much humidity is in the air as that can affect peoples health overall. If you live in a colder climate, then you may want to consider how you're heating your office, and if it's drying the air too much, you could even invest in recommended commercial air scrubbers, to periodically clear any harmful particles in your office space. Again, the staff will appreciate the effort in this, and so will you with fewer people off work sick.
Rearrange
There is a lot to be said for the feng shui of an office, if you have everyone's backs to the windows without any views for them to see, or if you have everyone in a tight space together, and you aren't using your space effectively. You may find your stuff and up less motivated, and less energetic than they otherwise would. You may not need to hire an expert to come in and show you how to arrange your office; there are resources online on how to improve the overall layout of your floor plan. But when it comes to happy stuff, you know where they sit concerning others plays a role in this.
Food
So, there are sometimes when you have meetings and provide birthday stuff food, or sandwiches and stuff get what's left. This is one of the perks of working in an office as we are now. However providing some occasional treats, in the way of fruit baskets, or sweet treats once a week may improve the mood. This obviously doesn't improve the office aesthetics as such, but the overall feeling of the office and the people in it will definitely be improved. And as with the other points above, there are many ways to enhance the mood of an office which ultimately enhances the office space as a whole.
Colors
You can really brighten up an office space with ditching the plain white walls and adding some more personalized touches to your business, why not use your corporate color on some of the walls, or print some of your best professional photography and hang it where people clients and staff can see them. You could even hire a graphic artist to come and create some corporate artwork on the walls. This adds to the overall impression of the business, looks professional, It really brightens the space too.
Whatever you do, it's usually a good idea to have a look at your own business, your individual staff, and your own clients and work out what would be the best for you and your team. Even if you delegate this task to your management, then you're going to have something new and exciting in your office. You can be creative and keep it professional, and even though it might not feel like something that could be on top of your priority list, it will ultimately improve your business. If the staff are happy and the customers are comfortable in your office space, then everyone is likely to be more productive. This way everyone feels a little happier about going to work, even on a Monday morning.