Blog posts in Blogger Outreach are always a great way to engage your website visitors as they're interesting and attract more traffic. Long-form blogs are even better because they allow you to discuss a specific topic thoroughly. However, writing a long blog post can be challenging sometimes since you are not sure of the exact angle to take to ensure your audience likes it.
If you're not sure of how to go about writing an effective long-form blog, then you are in the right place. In this article, are five vital essentials your long post must contain for it to work.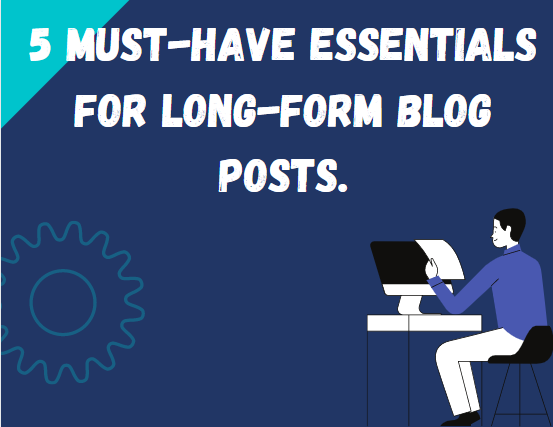 1. A Great Headline
If you've ever pitched an idea to investors, then you know the primary goal is usually to provide compelling information that will make them want to hear more. Similarly, a long-form blog post must have a magnetic headline to seduce people to read your content.
Adding some emotional words to your headline can help give it the magnetism it needs. Besides, people are moved by emotions. So, adding one or two emotional words can spice up the headline, attracting more readers.
2. Properly Planned Subheadings
Reading a long block of text is among the most exhausting things you can ever experience on the internet. Articles without subheadings seem poorly written, which can cause a high bounce rate since nobody wants to strain trying to read through the entire block.
Long posts must contain subheadings because they serve different vital purposes in your content including:
They divide your long blog post into several sections, making it more organized and appealing.
Subheadings make it easier to navigate to specific sections of the post.
They're effective in boosting SEO.
Your subheadings should be descriptive phrases capturing the key ideas to help people know what you're talking about before even reading that section.
Also, not many people love long-form content. Therefore, subheadings minimize the bounce rate effectively since your readers can quickly skim through the content and focus on the parts, they consider more important to them. In terms of topics and content structure ideas and drafting techniques you may walk through these creative ways to come up with topics for guest blogging.
3. An Engaging and Informative Body
The body is the most critical part of your blog post, because it's where you discuss the main topic. Here, you must focus on the topic and provide valuable information to the readers.
The body needs to be engaging enough to avoid boring your readers. You can use different tactics to make the content enjoyable, such as using some storytelling and humour. An engaging piece makes people read the post from top to bottom, enabling you to provide the value you wanted successfully.
4. High-Quality Graphics
Including graphics in your post is among the best things you can do as they make it more attractive and unique.
Graphics are interesting and attractive, thus allowing you to illustrate every point in a visually pleasing way. Therefore, excellent graphics are a must-have if you want to rank higher on SERPs because they'll make people stick around on your site for long.
5. Use Long-Tail Keywords
Every piece you write should have a focus keyword. Long-tail keywords are an amazing option for long-form blog posts because many websites don't use them. Therefore, having some long-tail keywords in your content makes it easier to rank high since you won't face stiff competition.
Long posts are usually the best option when you want to provide detailed information to your audience. So, you must ensure your blog contains key elements to help it stand out and fulfil its purpose.
This article discusses some of the most crucial things your long-form blog post should have. Therefore, research more and remember to include these essentials in your next post to help get more traffic and higher rankings.