Crunchbase is one of the top sources for tech business news and insights. Brands publish insider information on crunchbase, and passionate technologists come together to share info and try to piece together the puzzle pieces in a fast-paced, innovative market.
If you own a business, you need to understand how to create a crunchbase profile. It's a great step towards building brand recognition, interacting with other technologists, raising capital and recruiting amazing people to join your team.


Even other online directories have profiles – like the thumbtack crunchbase profile. Let's take a closer look at how you can get your company profile setup on crunchbase.
1. Create a Crunchbase Personal Profile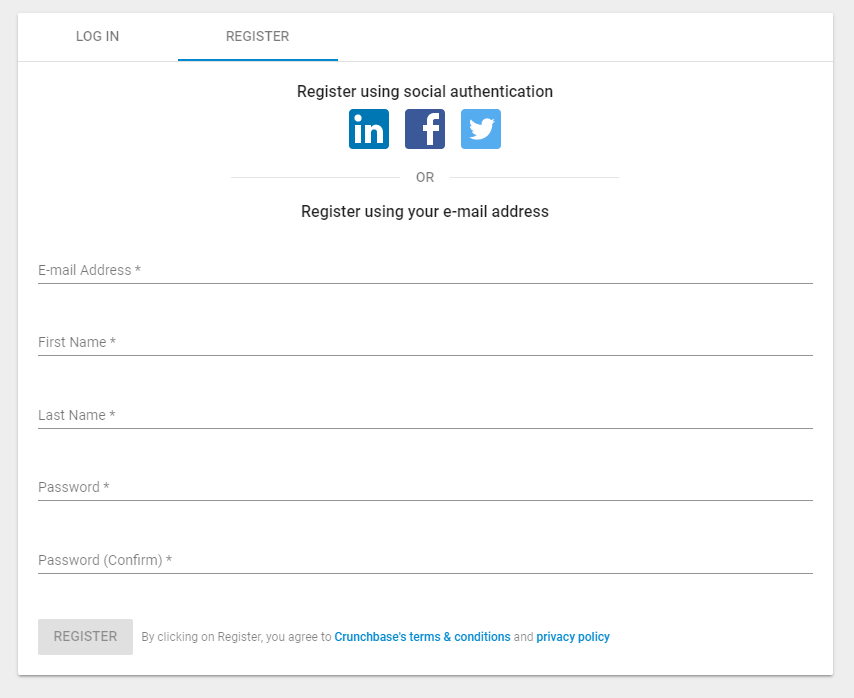 The easiest way to register on crunchbase is to import information from your LinkedIn or Facebook account. Since this is a business platform, LinkedIn is probably your best option for pulling relevant information into your crunchbase profile.
2. Creating a Business Profile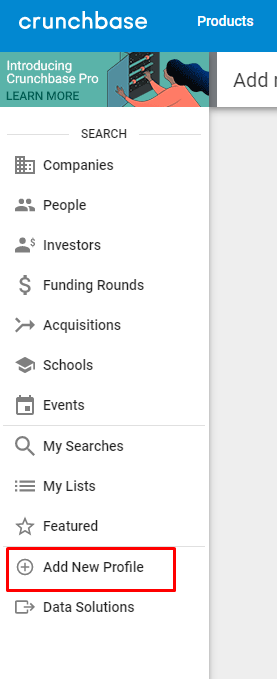 After you generate a personal account, you'll find the option to "add new profile" (see image above). You'll then be taken to a page that asks you which type of profile you'd like to create (see image below).
3. Filling Out Your Company Profile


Finally, it's time to actually fill out your company profile. There are more than 25 importance pieces of information that you'll need in order to complete a full account. These include:
Profile Image – You can upload a logo or other image that represents your company. It should be at least 100×100 pixels and cropping will need to be completed prior to upload. The maximum file size is 2mb.
Company Name – This is the legally registered name of your company. There will be another section to add DBA or subordinate organization names.
Company Description – You'll need to select the most relevant category from their dropdown.
Also Known As – This can be a company alias that your firm does business under.
Founded Date – When was your company officially formed?
Closed Date – This is optional, but can be helpful for showcasing previous companies that you've helped to start and manage. Prior associate with an industry startup, even if it failed, can be helpful for completing funding rounds.
Number of Employees – You should include yourself in this count.
Company Type – Are you a for-profit or non-profit?
Company Website URL
LinkedIn URL – This should be the LinedIn of your company, not your personal account.
Company Twitter URL
Contact Email – This should be an email address that is regularly monitored for communication from both crunchbase and other users.
Phone Number – DO NOT put a personal phone number.
Full Description – Spend some time creating an impactful summary of your company. It should be between 2 and 10,000 characters. The goal is to get customers and potential partners excited about what your company has done and is on-track to do.
Headquarters – This is your corporate address. Again, do not place a personal address here. If necessary, you can always rent a P.O. box or hire a company to handle your physical mail at a professional address.
Categories – These are the broad categories of products and services that your company deals with. You can pick more than one.
Founders – Each company founder should have a "founder profile" on crunchbase. If their profile already exists, you'll link to these here. If not,
IPO – Has your company had an Initial Public Offering? You'll need to import all of the specific details, including the date, initial valuation and current standing of your investment.
Funding Rounds – These are the times when you raised capital without going public. Did your parents invest to help you get the business off the ground? Basically, anytime equity was transferred or leverage in return for financial support, you'll need to notate it here.
Acquisitions – Has your company been acquired, or have you acquired other businesses?
Featured Employees – These are your rockstars. They have a following or reputation in the industry, and your company benefits from having them on your team.
Featured Board Members and Advisors – Do you have reputable board members or advisors? List Mark Cuban or Warren Buffett here.
Employees, Board Members and Advisors – For those members of your organization that have an impact, but might not have attained Rockstar status in their personal career, this is where you add them in.
Sub-Organizations – Is your company made up of multiple divisions or organizations with separate brand names or marketing presences. This section helps viewers understand how your business is structured.
News – This is a great place to insert Press Releases, major milestones and information that helps validate the credibility of your company.
Don't forget to take time to review all of this information before clicking "UPDATE". There are significant portions of this profile that can only be edited with the help of a crunchbase team member. This rule is designed to help keep nefarious or poorly informed individuals from making edits – this isn't Wikipedia after all!
Once you click "UPDATE", you'll be asked to confirm whether your profile is for a company, investment firm or school. It's important to get this right, because crunchbase has specific details that are added to a profile based on its category. Getting this wrong might remove the ability to add pertinent details, or create additional profile fields that aren't relevant and can't be filled out – making a profile look incomplete.
After you're done, you'll have a crunchbase profile URL to share and embed in your marketing material.
Requirements to Edit or Delete Crunchbase Profile
Crunchbase is a platform that relies on individuals adding and verifying their own data. In order to perform edits, you'll need a "socially-verified" crunchbase account. This means that you have linked your crunchbase account to a facebook, twitter and/or LinkedIn account. You'll be required to sign into your social media account as part of the verification process.
To delete a crunchbase profile, you'll need to contact a staff member. Only staff at crunchbase delete profiles, based on their own research of the request.
As Kevin O'Leary (aka Mr. Wonderful) is fond of saying, "Business is where poo poo really happens." If your startup becomes a statistic, or you experience an embarrassing PR blunder, crunchbase wants the record to remain accurate – even if it's a bit uncomfortable.
Alright, that pretty much covers it! After reading this guide you should be able to create, edit and delete a crunchbase company profile –  a key aspect of building a killer online presence.