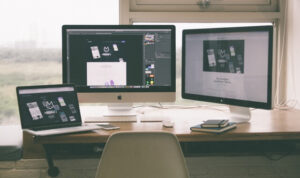 An IT department can be anything from a single person responsible for all IT functions within the company or an entire office with hundreds of desks. There are many reasons why your business may need an IT department and many reasons why your business doesn't need one.
This guide is going to attempt to boil everything down to help you make the right decision.
Why Do You Need an IT Department?
There are a few reasons why a business of any size may decide to opt for an IT department. Managing your IT affairs and making decisions on upgrades can be tough. An IT department can manage everything from maintenance to upgrading existing systems.
Crucially, they're also responsible for ensuring that IT systems fit seamlessly into the company, and that the company makes best use of the functions and features in place.
What are Some of the Key Reasons Why an IT Department is a Bad Idea?
IT departments can be expensive to setup. You need an expert in place to manage a company's IT systems.
The bureaucracy between departments can easily slow down the business.
Sometimes it's easier and makes more sense for a company to have employees pull double duty.
A lot of times IT departments are left to manage a website on top of competing priorities. That's why they often seek the services of a website design company, a specialist that can design & manage the website. It's an important business asset that requires special expertise. As a matter of fact, individual designers often create more problems for a business as well as for your IT because they're freelancers who run over budget and timeline, requiring more management.
So What's the Alternative to an IT Department?
The alternative to an IT department is quite simple. There's such a thing as software outsourcing. This is an idea by which IT functions are outsourced to another company that might not even be in the country.
They may provide a variety of different services, including remote support and online fixes through screen sharing. What you have to keep in mind is that with software like TeamViewer it's possible to control a computer system remotely. This removes the need to have someone on-site.
How Do You Make Sure Your Business Makes the Right Decision?
For a start, it depends entirely on how reliant your business is on IT. Not every company is. It makes little sense for an independent contractor to have an IT department, for example, when all they do is answer emails and manage a basic website.
However, a small group of accountants will work almost exclusively on computers, so they need someone who's on their side. IT support can limit downtime.
Last Word – Try It First
The only way to really find out whether you're making the right decision is to try it first. If you've experienced downtime in the past you may already know that an IT support team will pay dividends. On the other hand, less computer-reliant companies may want to try using in-house knowledge before they decide to bring in a specific department.
Whatever your decision, you need to monitor the results of that decision to determine whether you've made the right choice.
What do you think is the right choice for your company in the long-term?