One of the biggest challenges in launching a startup is finding the capital required to cover all of the software, tools and outside help you'll need to pull off a successful launch. If you're strapped for cash, free business email hosting is a great option to keep costs low.
But it's important to get this right. If you choose the wrong free business email service, you may experience service interruptions, or may be limited on option to customize your email domain – the most important step in communicating professionally on behalf of your brand.
What should you look for in the best free business email?
First, let's consider the ways that business email is different from a personal email account:
Business email should have a custom domain – usually @YourCompanyWebsite.com
The owner of the company should have the power to control which employees have access to business email – including the ability to remove access due to termination or improper use.
It should be easily accessible from every device your team uses to communicate with customers. Stay away from clunky, outdated WebMail interfaces – the extra training required will increase labor costs and trouble ticket requests.
Business email solutions should be tested to ensure that emails delivered from the address aren't sent to the spam folders of your recipients. This is a common issue with cpanel's free email addresses, but more on that in a moment.
If your company operates in a tightly regulated industry, like the healthcare or legal field, you may be required to archive your communications. Ensure that your chosen email host allows you to stay compliant with any rules or regulations impacting your business.
The security of a business email platform is usually more stringent than a standard email account. This is something that should be researched prior to unleashing your team to discuss and transmit sensitive information.
It all starts with a corporate domain.
If you want your business communication to look professional, you'll need to snag a corporate domain. If your company has a website, congratulations! You already have one. But, if you haven't gotten your site setup yet, checkout the different hosting providers for specials.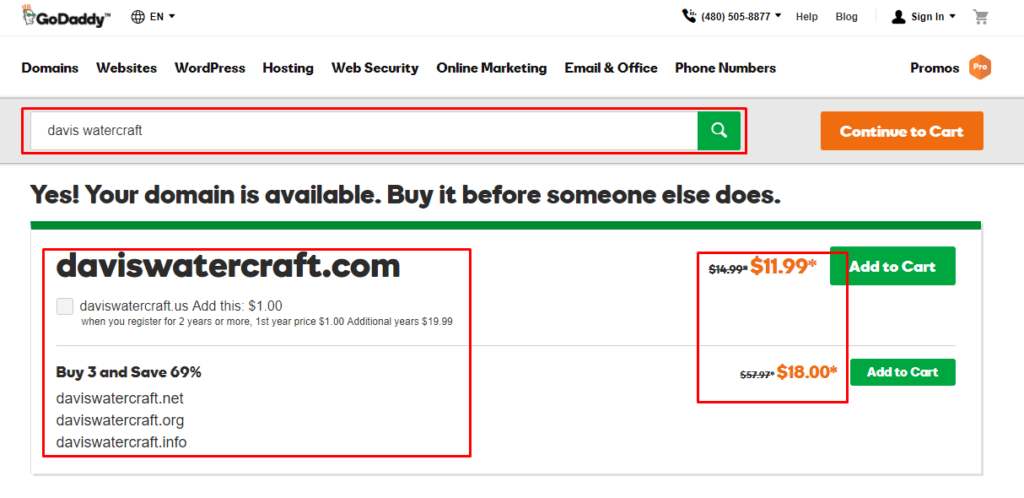 Most of the top domain registrars offer special introductory discounts. It's a very good idea to purchase multiple years at the discounted rate, if you can afford the extra up-front investment.
For example, let's call my made-up boat company "Davis' Watercraft".  Head over to a domain registration service provider, like GoDaddy, and type in the company name. Yay! It looks like DavisWatercraft.com is available!
You'll also notice that other domains are available. Registering similar domains, as well as all the associated domain extensions, is an important step for protecting your company's branding. And there's an introductory discount available.
So, if I were setting up this business, I would purchase all four of the domains offered:
• Daviswatercraft.com
• Daviswatercraft.net
• Daviswatercraft.org
• Daviswatercraft.info
The total annual registration cost would be $29.99 with the one-time bundle savings. I recommend purchasing multiple years of registration since I'd save $42.97 per year off their regular registration costs. With a five-year domain registration, that's a savings of over $214!
Comparing Free Business Email Providers
Now that you have the domain, it's time to compare different platforms for hosting and managing your free business email addresses.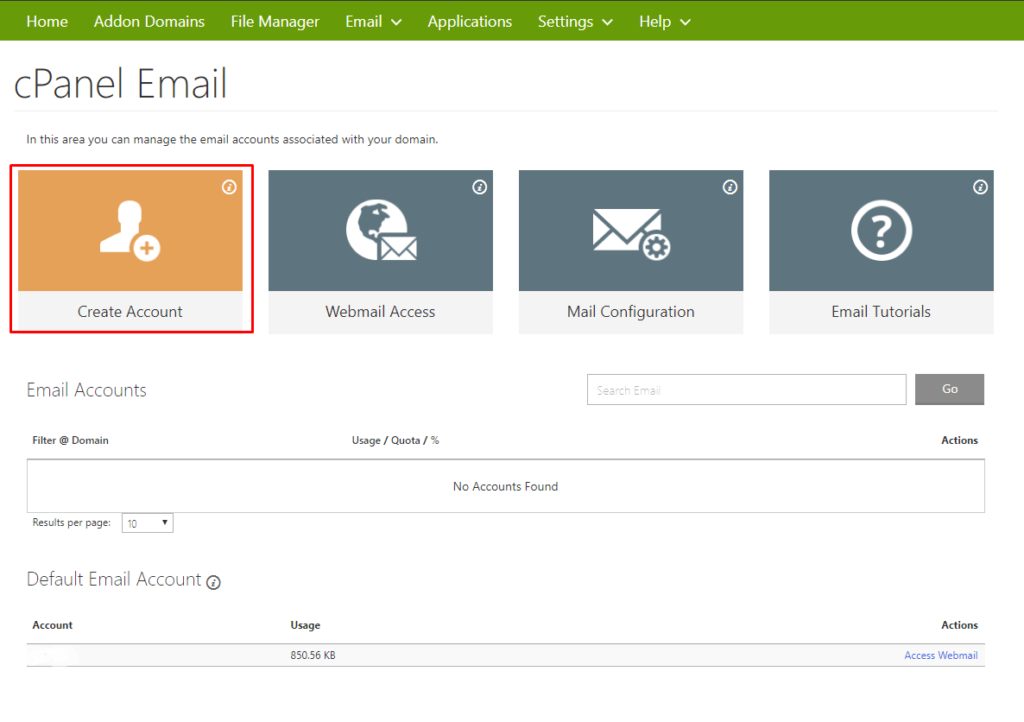 cPanel Business Email Hosting
If, in addition to registering your domain, you also have a cPanel hosting account, you have the option of adding free business email addresses via cPanel.
Setup is a breeze. Simply navigate to the cPanel email section and click "create account". The wizard walks you through the rest of the process.
It's important to note that much of the email sent from these free cPanel email accounts end up in the spam folder of the intended recipient. CPanel offers a guide to help mitigate this issue, but it's one of the reasons I recommend using the alternative services I'll outline below.
If you do choose cPanel email, you'll receive:
An unlimited number of email addresses.
The freedom to set custom inbox storage limits per user – this will eat into the storage purchased with your hosting plan.
By default, users can attach any file up to 50MB to their email. However, this can be adjusted by an administrator.
Zoho Free Business Email
Zoho is a CRM service that supports start-ups and small business by providing them with a free business email package designed for teams of 25-50 people or less. Out team has used Zoho for a number of years and enjoy its low-maintenance business email platform.
Under their free business email plan, your team will get:
25 business email addresses (can be increased to 50 business email addresses if you refer friends to also try Zoho).
Each email inbox will have 5GB of storage space.
Your team can attach attachments up to 20MB to their emails.
To setup a Zoho Mail account for your business, click here and scroll down to their "FREE PLAN". You'll find it beneath the comparisons of their paid Zoho suite plans, just above the FAQ section.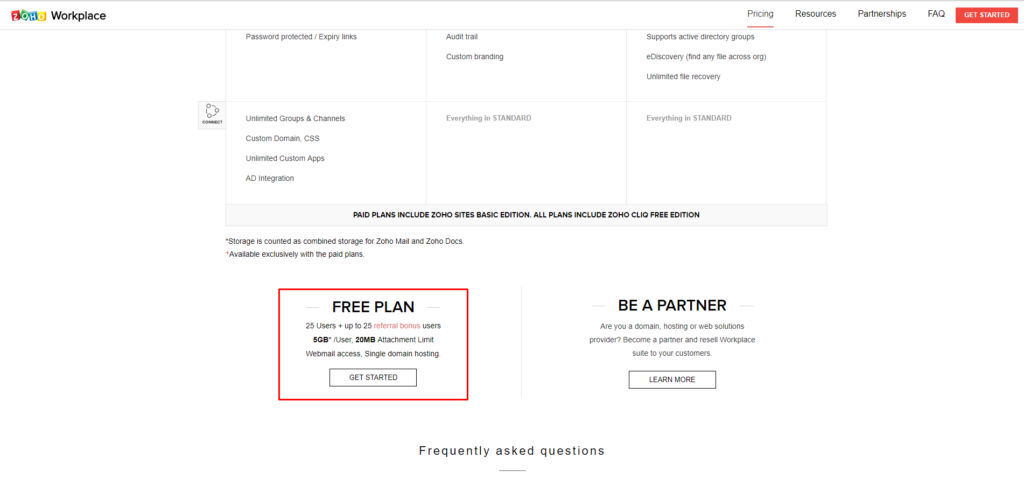 We highly recommend Zoho email, most of all because we haven't had our emails end up in the spam filter of our recipients – unlike our initial experience with cPanel email addresses.
Free Email Providers vs Paid Ones
The key feature that matters most is the ability to change the domain name associated with your email address. You don't want to have an unprofessional email address, like DavisWatercraft@aol.com. This looks amateurish because the AOL domain is associated with personal email addresses from the late 90s and early 2000s.
If you aren't willing to pay for your business email platform, stay away from:
Free business email account in Gmail
Yahoo Mail
AOL Mail
And virtually every other free personal email provider.
Again, the biggest reason for this recommendation is that you either cannot or have to pay in order to use a custom domain as your email address. A free business email domain, while inexpensive, will look like a personal account.
In conclusion, the way that your business communicates with clients, vendors and internally is important. A free business email account should include your company's branding. It should be a secure platform with all the tools necessary to remain legally compliant with industry regulations. And it will be easily accessible for your entire team – with plenty of storage space for email archives and attachments.