If you work in an office, you'll be aware that sometimes they aren't particularly pleasant places. From dingy greying paintwork to peeling line on the floors to old coffee cups stacking up in the sink, one thing is for certain: your office environment can really negatively affect your mood. If you want to improve that office aesthetic and make everyone happier at work, here are some top tips.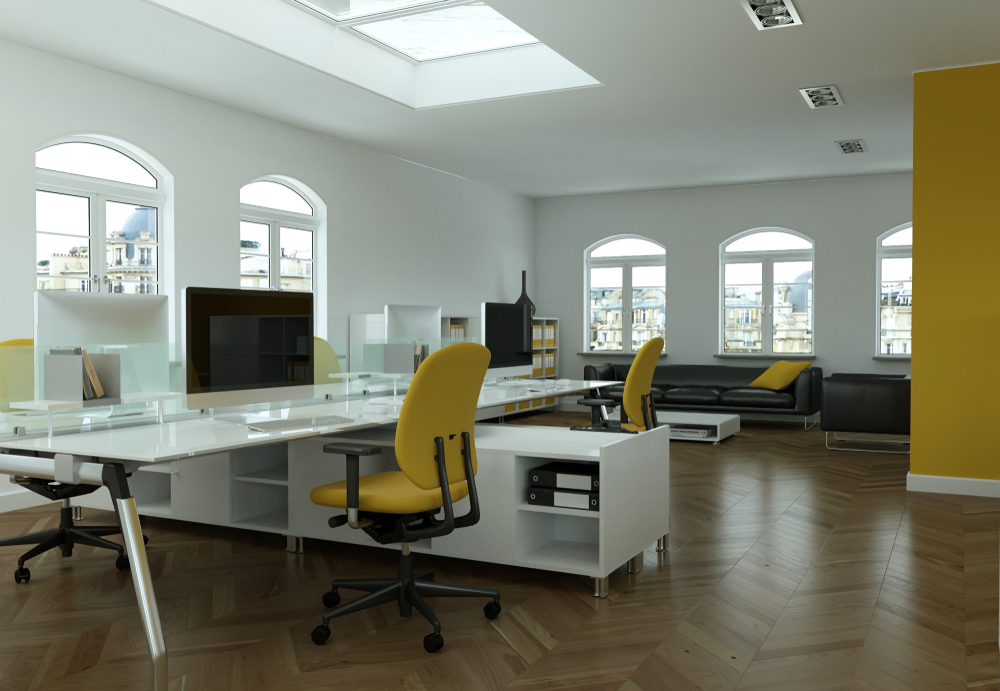 Keep It Clean
If your office is cluttered, if people don't tidy their desks, if there's a suspicious smell wafting from the fridge, it's time to make some changes. Create policies that are designed to make the work space a pleasant experience for everyone, for instance not disposing of food waste in bins by desks – this can encourage rodents, and it can also smell – and also storing bags and coats in a communal closet or on coat hooks instead of on the backs of chairs. Try to use less paper so that it stacks up less on desks – this is also an excellently ecofriendly idea.
Change Your Colors
Not all colors were created equally, and not all of them were designed to create a calm yet energized working environment. If you are able to change the colors of your walls at your office, there are a few things to consider. Firstly, don't go for colors that are too bold: although red may be a great color to accent areas, it isn't a great choice for the entire office as it represents anger and passion and may not lead to a conducive working environment. Likewise, don't choose colors that are too dark – they're miserable, they'll feel even darker during the winter, and they'll trap heat in the summer. Go for a pale, crisp blue or grey, or maybe mint green, which would be a particularly good choice as it doesn't induce eye fatigue like many other colors do.
What About Wall Decorations?
Adding decoration is a great way to improve people's moods. It personalizes the office and will help to spark creativity by giving people ideas and reinforcing the fact that it's a colorful and exciting work space. However, adding posters and pictures is often easier said than done. In order to save money and to allow for some flexibility, many office spaces are rented, meaning that you may not be allowed to put holes in the walls to hang frames and to tack posters onto paintwork. If that's the case, check out banner hanging systems which may make life a little easier, or consider adding decals, which easily peel off the walls without leaving any sticky marks behind.
Cut Out The Cubicles
Finally it's time to demolish the cubicles between desks. They are bad for morale as they make people feel isolated, whereas they'll be more likely to have fun with co-workers and bounce ideas off each other if those cubicles no longer exist. A lack of cubicles will also make your office feel more open and airy.
Improving your office aesthetic doesn't have to be expensive or complicated – these tips should improve your space in no time.